Unmanned Aerial Systems
UAS is defined as an aerial system weighing less than 50 pounds intended for non-miltary use.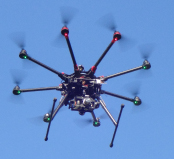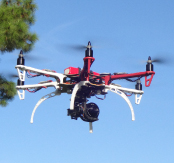 D&C Aerial Inspection Services' fleet of UAS aircraft utilizes an optimized high-performance flight system supported by GPS coordinates.
Employing UAS relieves inspectors of the extreme liabilities associated with exposure to heights, biologically hazardous gases, energized electrical equipment and other industrial hazards.
Onboard camera and video equipment allow inspectors to view the required areas of inspection from the safety of the ground, which greatly reduces associated risks and hazards.
UAS safely maneuver around structures, eliminating the need for costly scaffolding and fall protection. Aerial inspections also elimate the hours spent preparing for proper inspection of these structures, making our services are faster, safer and financially smarter.
Our UAS are designed to fly up to 400 feet elevations, as per FAA regulations, and can reach speeds up to 50 mph. Higher elevations can be reached with a FAA approved Flight Plan.
Our crafts, which are externally operated by a ground controller or "pilot," carry payloads comprised of the sensor packages best suited for the job at hand.
High-resolution cameras mounted on the UAS provide HD video and photography and the UAS flight stabilization is one of the fastest in its class for quality video imaging.
The UAS wirelessly transmit images to a ground station enabling clients to view a live feed of the images during flight.
Our pilots and procedures require a minimum distance of two to three feet from other objects for stability correction and optimal use of the camera zoom feature to take still photographs in the RAW format for software enhancement. This use of the camera to capture RAW format is in compliance with the 24 inch requirement of ASME Section V, Article 9, section T-952.
Brushless electric motors drive our aerial system's propellers, meaning the UAS can usually be flown into combustible gases without adverse effects. The electrical systems and connections primarily use solid state components and are designed to operate without sparking. There are no thermionic devices in the UAS and its lithium polymer batteries are generally encased in carbon fiber and enclosed in Kevlar to prevent the possibility of a puncture.
Our UAS do not have Class 1, Division 1 or Division 2 certifications. However, with proper permitting, they can be used in these facility areas.